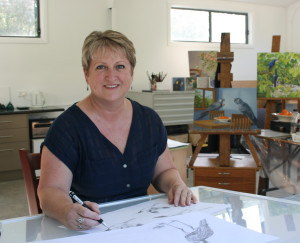 The natural world is a constant source of inspiration and is at the heart of my art practice. My primary areas of interest revolve around the senses; in particular, how we use our senses to experience and interact with nature.
My drawings and paintings are rendered in accurate detail, capturing the character of the subject and reflecting the fascination and respect I have for all wildlife, particularly Australian native species. I specialise in oil paint, because its versatile qualities allow me to faithfully represent the vibrant colours, textures and effects of light I see around me. I also incorporate acrylics, watercolour and a range of drawing media into my practice.
My undergraduate studies in Fine Art allowed me to explore conceptual, abstract and figurative work and experiment with a range of media and techniques. However, my love for drawing and painting natural forms in realistic detail led me to pursue further studies in Natural History Illustration. I graduated with First Class Honours in 2009 and in 2013 completed a PhD in this field at the University of Newcastle, where I am now teaching and being constantly inspired by the next generation of natural history illustrators.
I am truly fortunate to be able to combine teaching with my studio practice, where I continue to create new works for exhibitions and commissions. While the Newcastle, Port Stephens and Hunter regions provide a wealth of inspiration, I am also looking forward to travelling throughout our extraordinary country more often, to collect resources for future work. My paintings are exhibited locally and interstate, and are found in private collections in Australia and overseas.
Biography
Prue Sailer
Born 1960, Canberra, Australia
Lives in Port Stephens, Australia
Lecturer in Natural History Illustration, The University of Newcastle
Education
2013    PhD (Natural History Illustration)
2008    Bachelor of Natural History Illustration (Honours Class 1), The University of Newcastle
2007    Bachelor of Fine Art, The University of Newcastle
2001    Open Foundation (Intensive), The University of Newcastle
Awards and Grants
2010    Australian Postgraduate Scholarship
2009    University Medal
Faculty Medal, Faculty of Science and Information Technology
Graham Gilchrist Natural History Illustration Prize
2007    Finalist, Brian and Rhoma Cummins Painting Prize, The University of Newcastle
Solo Exhibitions
2013    Wild Visions:  The World through Animals' Eyes, Manning Regional Art Gallery, Taree
2013    Phd Exhibition, Wild Visions: An Artistic Investigation into Animal Vision
The University of Newcastle Gallery
2011    Newcastle Arts for Health exhibition, John Hunter Hospital
2008    … a fine line …,  John Paynter Gallery, Newcastle
2006    Touching the Surface, Watt Space
Group Exhibitions
2017 Convergence, with Susan Ryman and Giselle Penn, Gallery 139, Hamilton, Newcastle
2016    Forbidden Fruit, with Susan Ryman, Australian National Botanic Gardens Gallery
2016    Endangered and Extinct: When Nature Calls, Maitland Regional Art Gallery
2016    The Birds, Nanshe Studio Gallery, Newcastle
2016    Figure It Out, Nanshe Studio Gallery, Newcastle
2015-16 Illuminating Science, Lovett Gallery, Newcastle Regional Library
2013    Flora and Fauna, Syndicate at Danks Gallery, Waterloo
2012    Insectosize, Maitland Regional Art Gallery
2011    The Scott Sisters, Auchmuty Library, The University of Newcastle
2011    Depicting Nature: from Scientific Illustration to Graphic Novels, Maitland Regional Art Gallery
2011    Exhibition at Hunter Wetlands Centre in conjunction with the Tom Farrell Institute for the Environment
2011    The Weeds Drawing Project, Manukau School of Visual Arts, South Auckland, New Zealand and
The University of Newcastle Gallery
2010    Curio NaturaeLovett Gallery, Newcastle Regional Library
2009    Minding Animals: The Animal in Us, Watt Space; Newcastle Conservatorium of Music.
Exhibition in conjunction with the International Academic & Community Conference on Animals and Society
2009    2008 Natural History Illustration Honours Exhibition, Newcastle Art Space
2007    Desideratum, Watt Space
2006    Best Before, 2006 3rd Year show, Watt Space
2006    2006 Annual Student Acquisitive Art Prize, Watt Space
2006    It's not all black and white, Watt Space Open Show
2005    First Timers Club, Watt Space
2003    Ink It Print It, Watt Space Student Gallery, Newcastle
2002    Wig Week Art Auction, Newcastle Town Hall
Collections
The University of Newcastle
Private collections within Australia and overseas